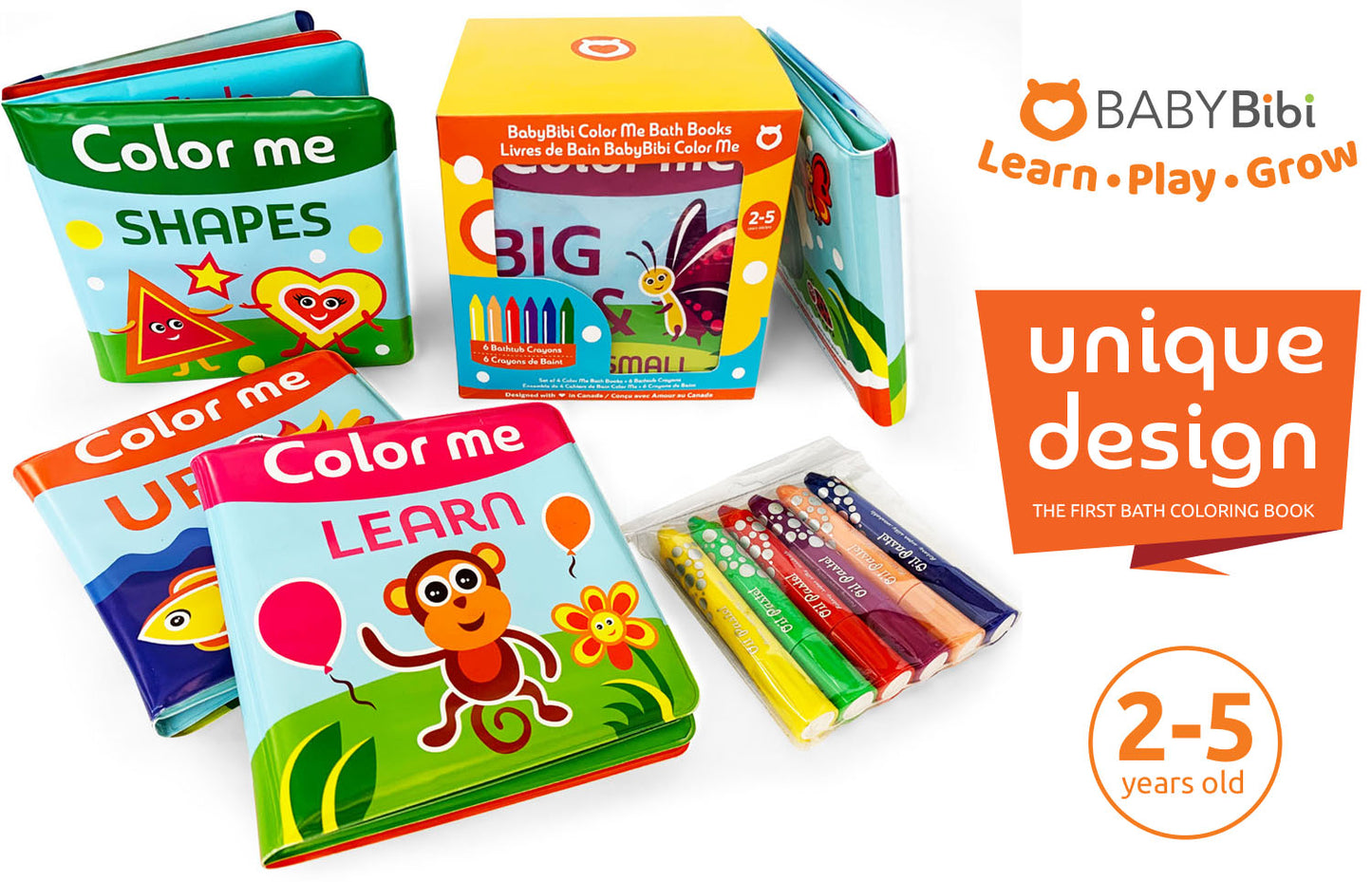 Does your child love to draw? Are you looking for interesting activities to engage and explore your child's creativity? We are super excited to present to you our new innovative product – Babybibi Color Me Bath Books + Bath Crayons! 
 
Yes, that's right, these are waterproof bath books designed for fun art time in the bath! Many adults get creative ideas while taking a shower – why not engage your child's creative genius during bath time?
 
What does the Colour Me Bath Books set include?
 
BabyBibi Color Me Bath Books + Crayons come in a set of four different books and six washable crayons. 

Books
 
Each book has an educational theme your child can explore and learn from. 
  
Color Me Learn: prompts simple questions about the world
Color Me Big and Small: explores opposites and contrasts
Color Me Shapes: introduces your child to different shapes
Color Me Up and Down: talks about spatial awareness
 
Crayons
 
Bath Crayons come in the following colors: yellow, green, peach, blue, red and purple. Crayons are great for coloring on the bath, tiles and books. The colors can be easily wiped off without leaving a residue.
 
Kids love creating art and playing with bubbles. Coloring during bath time makes a therapeutic and relaxing activity. The crayons are safe to use as they are non-toxic and ASTM certified. Crayons have a soft rich texture and can be used during dry playtime as well. 
How does your child benefit from BabyBibi Bath Books + Crayons set?
Develops Pen Control Skills

Writing is an important skill for a child to master. Color Me bath books were designed as an early development tool to progress the development of writing, motor skills, creativity, awareness, and confidence in toddlers.
Develops Fine Motor Skills : Watch Your Child To Coordinate Hir/Her Movements

 
Coloring while bathing is a great way for toddlers and kids to learn and explore new things. Coloring encourages them to create art, learn pre-writing, pen control, and develop fine motor skills in a play setting.  
 
Motor skills refer to the coordination of all muscles to enable a person to grasp objects with their hands. As toddlers learn through touch, they will develop motor skills through holding crayons while coloring. 

 
Creativity Development: Let Your Child Explore His/Her Creativity 

 
Toddlers love to express through artistic activities. Creative play helps a toddler to grow emotionally, socially, and mentally. Coloring is a form of play that helps to foster creativity in toddlers. This activity helps to build patience, improve coordination, and develop their color sense. 
Confidence: Encourage Your Child to Complete Tasks to Build a Positive Reinforcement

 Improving fine motor skills enhances a toddler's confidence in picking up and gripping objects. Also, when a child finishes a coloring of the page, he/she gains a sense of achievement. The child knows that he/she has started a task and completed it. This pattern of reinforcement will have beneficial effects while a child is growing up into a confident adult.
Artistic Expression: To Convey the Childs Emotions Through Art
 
Coloring and drawing stimulate a child's brain to come up with new thoughts and concepts. Let your child mix colors, erase, explore, draw on the bath and get messy. These bath crayons are super easy to clean with water.
 
The New Innovative Color Me Bath Books + Crayons come in a beautiful box and make a great gift for a child's birthday and Christmas. Available on our website or Amazon.com