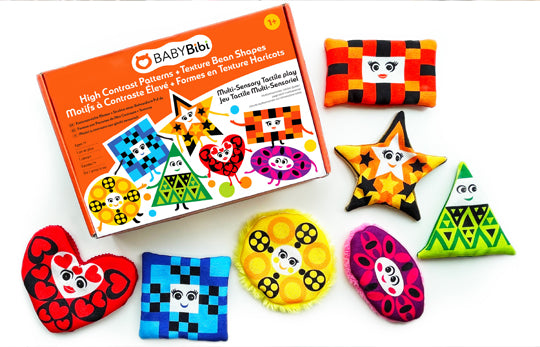 Of course you want your child to grow up into a well rounded, smart and kind individual! Baby toys can be a great way to help your child develop and learn, as well as have fun.
BabyBibi has created some wonderful educational baby toys that will make any child grow up happy, healthy and smart!
Baby Development toys are important because they improve a child's cognitive skills, stimulate baby's senses and fine motor skills by learning through play.
BabyBibi is an educational toy store. Our baby development toys are designed to stimulate baby's physical and mental development. We recommend the following 5 baby educational toys that will encourage sensory play and make your baby smarter!
1. Texture Bean Shapes is our top baby development toy!
The set includes seven shapes: circle, triangle, heart, square, oval, star and rectangular.
Filled with eco-friendly plastic
Develops fine motor and tactile skills
Promotes social interaction open ended play
One of our top sensory toys - great toy for a play mat
Texture Bean Shapes - This toy is one of our new favorites! With different fabric textures such as soft fur, scratchy, silky, plush, smooth, cotton and more.
The bean shapes filled with eco-plastic beads will provide hours of sensory exploration for your little ones. They'll love exploring these tactile shapes with their fingers as they practice dexterity with their hands.
The high contrast illustrations on the opposite side of each shape with a smiley face further stimulates baby's senses, hand eye coordination while learning shapes.
2. Color recognition cloth books designed for visual learners
The set includes nine color cloth books to teach your baby about pink, red, yellow, orange, green, brown, black & white, purple and blue colors.
These cloth books are super light, easy for travel, on the go, great car seat toy
Baby learns to recognize colors in a fun way
The pages make crinkly sounds
Durable and high quality
The toy promotes visual stimulation
Can your Baby already recognize colors? Introduce your child to BabyBibi cloth color recognition books! This set of 9 books introduces your baby to the most common colors in a fun and engaging way. 
Choose from pink, red, yellow, orange, green, brown, black & white, purple and blue colors. Babies learn by looking at pictures of objects that coordinate with the color of each book. Crinkly pages and bright colors make BabyBibi books a must-have for the little ones!
3. Black & white high contrast colors bath books are designed for visual development and fine motor skills development
The set includes four bath books covering the topics about veggies, animals, numbers and shapes.
Baby visual development
Designed for tiny hands
Promotes fun bath time!
Bath time is one of the best times to spend with baby. It's fun, exciting, and it helps them relax when they're all wound up. These bath books are great because they'll keep baby entertained while taking a bath!
High Contrast Baby Bath books will teach your baby about numbers, shapes, animals and veggies through beautiful high contrast black & white colors and graphic patterns. Baby will love splashing in the bath with these bath books while learning to count.
4. Baby Unicorn book with three-dimensional elements and baby safe mirror for curious babies
Engaging cloth book with 3D elements
Promotes creativity and imagination
Supports gross skills development
Play peek a boo with a Baby Unicorn
We all know that Unicorns are magical creatures that represent magic and enchantment. What better book to give your child than an educational Baby Unicorn book with a baby safe mirror to see their own reflection, crinkly parts, peekaboo window, and butterfly on a string?
Your child will love the Baby unicorn book with all its crinkly sounds and textures. The Baby Unicorn will become part of your child's story time.
5. Cloth books with wings will keep younger babies engaged!
Crinkly wings
Simple rhymes and engaging story
Early development cloth books
Tactile play
Perfect on the go toy
Machine washable - easy to clean
Have you heard of the tails books? The chances are that you probably have because they are very popular among babies and toddlers.
Recently BabyBibi launched a new book about Wings. It has a similar concept like Tail books but educates your baby about flying insects, animals, birds and even features an airplane! All wings are made of crinkle material of course to engage your little one in a sensory play.
These books are filled with adorable rhymes that are great for children of any age. It's not only entertaining, but it encourages kids to read.
We are so excited to share this list of BabyBibi new baby learning toys created for babies and young children. Our products are designed to teach kids about the world around them while being fun and helping their cognitive development.
All of these features make our toys an excellent educational choice for kids! If you're looking for a great gift idea or need some smart toys check out BabyBibi product links below: